Sony LTX-CL
Using an LTO cleaning tape to keeping drive heads clean is essential if you want to maintain performance and data integrity. The Sony LTO cleaning tape LTX-CL is designed exclusively for use with all LTO drives and autoloaders running UCC-compatible firmware. It provides around 50 cleaning's for IBM Full-Height and Quantum drives and 15 cleaning's for Hewlett Packard drives.
About Sony LTO Tape
Sony media cartridges are manufactured to the highest industry standards for quality and reliability, ensuring low error rates, high performance and long-term durability. Sony media allows you to archive your data with confidence. The Sony media family offers you more choices to better manage your data over time. Our LTO Ultrium tape format has been optimised for high capacity and performance with outstanding reliability, in either stand-alone or automated environment. The Sony LTO Ultrium tape product line ranges from 200GB* to 15TB* capacity per cartridge, making it an ideal choice for capacity specific backup and archive applications.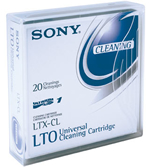 The LTO cleaning process can be set using two methods the first being that the drive will alert you, alternatively, you can set this within your backup software and it will automatically perform the head clean every so many tape passes.